Luke Sesker is returning for his third season with Crossroads Indoor. A native of Iowa, he is an Alumni of Iowa State University and Palmer College of Chiropractic. He currently lives in West Des Moines, Iowa.

His marching experience includes four seasons with Iowa State University, two seasons with the Colts Drum and Bugle Corps, and two seasons with the Blue Stars Drum and Bugle Corps, aging out as Drumline Captain in 2012. He also marched four seasons with Gateway Indoor Percussion from St. Louis, Missouri – aging out as the snare section leader for the 2013 season.

Luke has taught many groups throughout Iowa including Marshalltown High School, Davenport Central High School, and Valley High School. He is currently in his third season as Drumline Coordinator for Iowa State University. In 2019 he will be serving as a snare technician for the Jersey Surf Drum and Bugle Corps.
Originally from St. Louis, MO, Adam Kallal is returning for his third year as Front Ensemble arranger for Crossroads Percussion. With Crossroads, Adam composes and arranges the music for the front ensemble and coordinates the front ensemble educational team. He is Assistant High School Band Director at Des Moines Lincoln High School in Des Moines, IA as well as 5th grade band instructor. Adam also consults with Iowa high schools on their marching and percussion programs across the state and has been a technician at several Iowa State percussion clinics.

Adam has an extensive background in marching percussion, with four years of world class WGI marching experience with Gateway Percussion (2013-2016) and three years with the Iowa State Drumline (2013-2015) ending his time with Iowa State as section leader. He was also member of the Iowa State Percussion Ensemble and Wind Ensemble. Adam graduated from Iowa State with a bachelors of Music Education accompanied with a minor in biology.
Andrew Wisner is a percussion educator currently residing in Des Moines, Iowa, where he is the Percussion Director at Waukee High School for both the fall and winter programs. In addition to working with Waukee, Andrew is a percussion writer and arranger for multiple Des Moines area marching bands, and also a marching battery technician for the Iowa State University Cyclone Football 'Varsity' Marching Band. Andrew actively consults with several Midwestern Scholastic marching ensembles, and offers private lessons at Uptempo Music in Beaverdale, Iowa.

As a marching member, Andrew has competed in a multitude of percussive mediums on snare drum including DCI Open and World Class with the Colt Cadets and Colts ('12,'13), respectively, and WGI World Class with Dojo Percussion ('13). Andrew also spent three seasons with Gateway Indoor ('14-'16), where he learned from world-renowned educator and arranger Mike McIntosh. Other marching experiences includes Statesmen Alliance Indoor, St. Louis Rams 'The Herd' Drumline, and the ISUCF'V'MB.

Andrew is proud to be returning as the battery arranger for Crossroads in the 2020 season!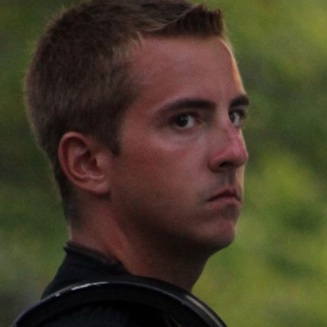 VISUAL DESIGNER
DRILL WRITER
Tyler Brooks is an up and coming designer in the pageantry arts, and an active percussion instructor in the Chicagoland area. He currently is in his fifth year on staff with the Kaneland High School Marching Knights from Maple Park, Illinois. There, he is responsible for writing the drill and music program for the Band's field show each fall, a position he has been in since 2014. In 2013, he was a visual instructor. He is also currently the Marching Percussion Director at Lyons Township High School in La Grange, Illinois. He is also a visual consultant for schools in the area.

Tyler's marching experience includes 5 years as a member of Green Thunder Percussion (now Cavaliers Indoor Percussion) from 2011-14 and 2016. There, he played quads and bass drum. From 2012-2016, he was a member of The Cavaliers Drum and Bugle Corps, where he played 1 year of euphonium, 3 years of tuba, and bass drum for his age-out year.

Tyler is incredibly excited to be joining Crossroads 2020 for his third season as a visual designer!
Melinda Leoce is the Instructor of Percussion and Director of Athletic Bands at Graceland University in Lamoni, Iowa and the President of the Iowa Chapter of the Percussive Arts Society. She earned her Master's in Percussion Performance and World Music from The Florida State University (2013), and her Bachelor's in Music Education from the University of Central Florida (2010). She is currently pursuing her Doctor of Music degree in Percussion Performance at Indiana University in Bloomington.

Melinda has performed with many of the premier marching organizations in the country including Carolina Crown (snare, 2005-06); Magic of Orlando (snare, 2004); the University of Central Florida Marching Knights (snare, 2003-04); and the Marjory Stoneman Douglas Eagle Regiment (bass and snare, 1999-2003). As a teacher, she enjoys directing and arranging for the Graceland University Marching Yellowjackets and Golden Jackets Colorguard. She continues to appear as a clinician and instructor with many groups throughout the country including the Mililani High School Marching Trojans in Mililani Town, Hawaii (2018), Southeast Polk High School (2019), Martinsville Indoor Percussion (2016-17), and the Indiana State University Marching Sycamores Drumline (2013-16).

Melinda's musical areas of expertise include the marching arts, contemporary percussion ensemble, steel pan, Brazilian percussion, music theory/aural skills, and arranging. When she is not at work, Melinda loves spending time with her dog, taking ski trips, cooking, and hosting game nights. She is thrilled to continue with the Educational Team at Crossroads in 2020!
Nick Miller is a percussionist and educator currently residing in Iowa City. He holds a bachelor's degree in Music Education from the University of Missouri-Columbia and is currently pursuing his master's degree in Percussion Performance from the University of Iowa studying under Dr. Dan Moore. He works as a graduate teaching assistant at the University instructing and arranging for the Hawkeye Drumline.

Nick has held numerous professional appointments as an instructor including Colt Cadets (2017), Willard High School (2017 - 2018), and Gateway Indoor (2018). Nick's marching experience includes Mizzou Drumline (2013 - 2014), Freedom Percussion (2013), Colts Drum and Bugle Corps (2016), and Gateway Indoor (2016 - 2017). He received Member of the Year, as well as the Mid-Continent Color Guard Association Scholarship for his age-out WGI season. He is very excited to be on board with XRP for the 2020 season!
Andrew Brogan is a resident of Blue Springs, MO. He graduated from Truman State University in Kirksville, MO with a B.S. in Computer Science.

During his DCI and WGI marching career, Andrew played tenors for Gateway Percussion (2014-2016), Madison Scouts (2014), and The Cavaliers (2015). He was fortunate to be educated by many notable instructors, including: Michael McIntosh, Eric Ridenour, Derek Boughey, Brian Graham, Drake Melson, and Justin Lewis to name a few.

Andrew worked with Blue Springs High School as a tenor drum and battery technician from 2012 to 2014. He has been with Blue Springs South and Lee's Summit High Schools since 2016, working as a battery technician with their winter indoor drumlines and fall marching bands. He was also the battery arranger and battery technician for Truman State University from 2015 to 2016. Andrew had the opportunity to work with Gateway Percussion (PIW) in St. Louis, MO as a tenor technician in 2018. He is returning to work with Crossroads Percussion (PIO) in Des Moines, IA for his 3rd year as a tenor technician.
Brian Reilly is originally from Naperville, Illinois and currently lives in Huxley, Iowa. He graduated from the University of Iowa with a BBA in Economics in 2013. Brian's drum corps career began in 2007 with the Madison Scouts tenor line, and ended in 2011 with the Santa Clara Vanguard tenor line. In 2009, he served as the tenor section leader for the Madison Scouts. During his years of drum corps, he was instructed by some amazing educators such as Paul Rennick, Roger Carter, Casey Brohard, Ryan Anderson, Paul Weber, Scott Simon, Mike Hodges, and many more.

From 2013 - 2015, Brian was fortunate enough to be a tenor instructor for the Blue Stars Drum and Bugle Corps, a percussion section with John Mapes, Ian Grom, and Eric Shriver at the helm. In the summer of 2012, he was the tenor tech for the Santa Clara Vanguard Cadets. Brian is currently a battery instructor with the Dowling Catholic High School Vanguard out of West Des Moines. Brian has also instructed for numerous schools in the Midwest, including Kennedy High School – Cedar Rapids, Naperville Central High School, Victor J Andrew High School, and Concord Community High School.

Outside of the marching percussion realm, Brian works in sales for Coca-Cola North America. He is beyond excited to again be a part of the Crossroads Percussion staff for this upcoming season, surrounded by consistently awesome members and staff!
Nond Sil is currently a student and educator in the Kansas City area. Originally from Bangkok, Thailand, he is currently working towards his degree in Liberal Arts while teaching several prominent schools in the area.

Before Nond stepped into an educator role, he marched bass drum in several notable ensembles, including The Colts Drum and Bugle Corps (2013), The Cavaliers Drum and Bugle Corps (2015, 2016), Gateway Indoor (2014-2016), and Cavaliers Indoor Percussion (2017). Since his age-out, Nond has worked with several local high schools while pursuing his degree. He is currently an instructor at Blue Springs South High School, and also Lee's Summit High School. Nond is also extremely proud to be a bass drum instructor for the Cavaliers 2019 season.

Nond is excited to return for his third season with XRP!
Michaela Halvorson, originally from Iowa and a graduate of Iowa State University, currently lives with her husband, Kevin, in Lincoln, NE where they keep busy with community outreach, local events and the music scene.

Michaela marched four seasons with the ISUCF'V'MB and currently serves as the Iowa State Cymbal Technician. Michaela spent three seasons marching competitively in WGI open class, world class and independent A class. She marched one season with the(402) Percussion; followed by one season with DOJO Percussion. She marched her final year with Railmen Indoor Percussion. After aging out, Michaela continued to march with Railmen Alumni Drum and Bugle Corps where she competed in WGI's Winter Winds and DCI's SoundSport for two years.

Michaela is excited to serve on the Education Team as a Cymbal Technician for the third season with Crossroads Percussion (XRP)!
Jack Roberts - Bio to come!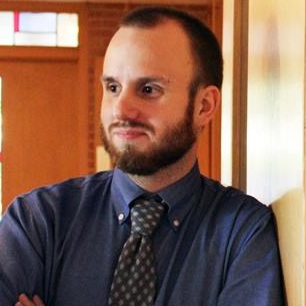 Joshua Link is a composer, educator, designer, sound technician and percussionist. The 2020 season will be his second year working with the front ensemble at Crossroads Percussion.

A native of the St. Louis, MO area, Joshua played in the frontline for the Madison Scouts Drum & Bugle Corps in 2009, 2010, and 2012, serving as subsection leader the last two years. He also performed in Gateway Indoor Percussion's front ensemble from 2010 to 2013, serving as center marimba and section leader the last two years. During this time, he learned and synthesized percussive styles from such nationally-renowned educators as Roger Carter, Brad Meyer, Jeff Lee, Thom Hannum, James Sparling, Michael McIntosh, as well as countless other brilliant educators. He has also been involved with St. Louis's PIA Gold Medalist group Modulation Z since 2017, and continues to serve as their Front Ensemble Coordinator and Audio Coordinator.
Sean Anderson, originally from Omaha Nebraska, went to Omaha Burke high School and is currently attending the University of Nebraska-Omaha studying public relations. His marching career began in 2012, and since then Sean has been part of numerous ensembles around the country. His DCI experience includes Pioneer (2016) and Seattle Cascades (2018) drum and bugle corps. His WGI experience includes 3 seasons with Dojo Percussion (2012-2014), 2 seasons on the instructional staff of Purecussion Indoor (2016-2017), 1 season with the Railmen (2018), and Sean concluded his marching career as an age-out with Cap City Percussion (2019).

Sean is excited to be on the instructional teams for several ensembles in the Nebraska and Ohio areas. His most recent endeavor is with Elkhorn High School in Elkhorn, Nebraska. Between Elkhorn and Crossroads, Sean is excited to see what the upcoming marching season brings!
Josh Spaulding is a composer, music educator, and percussionist currently based in Lincoln, Nebraska. He is currently a freelance composer and music educator in the greater Omaha and Lincoln areas, and he is on audio tech staff for the Cascades Drum and Bugle Corp based out of Seattle, WA. Prior to coming to Nebraska, Josh previously taught band at Horn Lake High School in Horn Lake, Mississippi and he was a front ensemble technician for the WGI Independent ensemble Audio Theater from 2015 - 2017. In addition, Josh has been a front ensemble technician for the Colt Cadets in 2019 and Music City Drum Corps in 2015. Josh had the honor of marching with the WGI Independent World ensemble, Gateway Indoor in 2014, where he was able to work with notable educators in the marching arts such as Mike Mcintosh and Amanda Loeffler. More information about Josh and his current work can be found on his website https://spauldingmusic.weebly.com/

Josh is looking forward to his first season of working with Crossroads Indoor!
Emily Schaeffer is a percussionist, educator, and Missouri native currently residing in the Kansas City area. She is an alumna of the Colts Drum & Bugle Corps (2009, 2010-synthesizer) and Gateway Percussion (2011-vibraphone, 2012-marimba). In 2014, she earned a Bachelor of Arts in music and Master of Arts in education from Truman State University where she enjoyed playing in several ensembles and was president of the Truman Percussion Society.

Emily is currently in her sixth year teaching as percussion director at Harrisonville Middle School and High School. She has been a front ensemble technician prior to teaching full-time with Midwest schools and worked briefly with the Colt Cadets. This July, she presented at the Kansas City Public Schools Summer Professional Development Institute on teaching percussion. She is an active member of the Percussive Arts Society and and the Kansas City Percussion Collective. When she's not teaching or playing percussion she likes being outside, growing her own food, and watering her houseplants.

She is excited to join the outstanding team at Crossroads Percussion for the 2020 season!
Kellie Simerly is from Omaha, Nebraska where she attends the University of Nebraska Medical Center and is in their Doctorate of Physical Therapy program. She graduated from the University of Kansas in 2018 with a bachelor of science in Exercise Science. During her time at Kansas, Kellie was a member of the Marching Jayhawks, serving as a rank leader for the 2015-2016 seasons and section leader for the 2017 season.

Kellie was exposed to the marching arts at the early age of four by watching Drum Corps International with her father. In 2015, Kellie spent her first of four years with the Phantom Regiment on euphonium. During her ageout season in 2018, Kellie served as the movement captain and euphonium section leader. Upon returning to Omaha, Kellie began working with the Millard West Marching Band on visual staff, where they received Best Visual in the state of Nebraska for the 2018 season.

Kellie has been involved with the performing arts since she was 5 years old. She started off with dance, doing so competitively until she was 17. Kellie has been involved with the marching arts since 2010 and continues to stay involved with teaching and administrative roles. She is well-versed with dance and movement from her extensive dance and marching experiences. In Kellie's free time, she enjoys spending time with her dog and watching Netflix. She is excited to be back with Crossroads Percussion for the 2020 season!